Creative Expression Healing Arts
Click on each of the tabs below for more information.  Please register for these classes on our Calendar page.
Art for Self-Care with NancyExpressive Writing with Miss Charlotte
Art for Self-Care with Start from the Heart
Nancy Bindig, founder of Start from the Heart: Art for Self-Care, introduces you to methods of self-expression that let you shift from thinking about cancer to feeling and communicating who you are – with and without cancer – in nonverbal ways.
She holds monthly classes that range from doodling your emotions to weaving as a meditation and working with art paper to create new art in the form of collages or cards.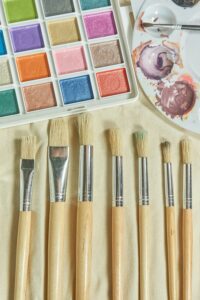 Some of the benefits from making art or engaging with art include:
Finding stress relief and relaxation

Developing a language for things that have no words

Expressing yourself – from joy to sorrow

Engaging your mind by learning a new skill

Creating a habit of doing something healthy for yourself on a regular basis

Releasing negative thoughts and feelings
No experience with art or drawing is needed for any of her classes.
Classes require pre-registration (usually 1 week in advance) to ensure we have time to get you the art supplies. Look for our Art for Self-Care classes on our Calendar page.
Connect with Nancy directly from her Facebook page.
---
PROVIDER SPOTLIGHT: Nancy Bindig, art educator
Nancy is a fiber, mixed media artist and art teacher. She holds a BS in Art Education and has taught adults and children in a variety of settings. Believing that all experience becomes intricately woven into our lives, she brings a love and passion for art, nature, and wellness to her lesson plans. Nancy encourages everyone to discover their own creative voice and to make art for fun, personal expression, and wellness.
In 2023 Nancy will be designing lesson plans with the theme of MAKING CONNECTIONS. "As we strive to find balance and either maintain or gain wellness, we can connect with ourselves and others through the act of making and sharing art experiences. It's my desire that Complementary Cancer Care clients and others will find an outlet and build confidence when learning new art skills and having fun. The creative process helps us navigate both challenges and the joys in life. By adding art making into one's routine it can have a profound impact on our body, mind, and spiritual health."
Expressive Writing with Miss Charlotte
Whatever your skill or comfort level, everyone has the capacity to write creatively and joyfully. Increased comfort with writing in any form of self-expression has been demonstrated to facilitate healing.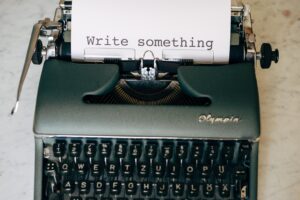 In this Expressive Writing Group there will be no need for writing skills, no evaluation, no criticism. During most sessions, group members will participate in free-thinking writing exercises to simply write however their creative mind engages them, upon being given a writing prompt, and then encouraged to share – or not – as they wish. Other sessions will include short writing exercises, meditation, games, and fun.
The act of writing will serve as an empowering form of self-expression and the opportunity to share proves to be a catalyst for peer bonding and personal healing.
This group is available to anyone who has had a cancer diagnosis, regardless of when or what type, as well as caregivers.
Our online class will typically meet the 3rd Thursday of the month.
Look for our Expressive Writing classes on our Calendar page.
~ ~ ~ ~ ~
"Participating in the writing group was superb. Our facilitator led a diverse group of non-writers into creative writing and [fostered] soulful connections with class members."
"Since attending this group, I've brought writing back into my self-care routine. Thank you for providing the thought-provoking prompts and a safe space to connect as we faced that early [COVID-19] quarantine period!"
---
Sponsored by: