Creative Expression Healing Arts
Click on each of the tabs below for more information.
Due to COVID-19 these classes will meet ONLINE using Zoom. Please register for these classes on our Calendar page.
Art for Self-Care with NancyArt Therapy with LaceyExpressive Writing GroupVision Board
Art for Self-Care with Start from the Heart
Nancy Bindig, founder of Start from the Heart: Art for Self-Care introduces you to methods of self-expression that let you shift from thinking about cancer to feeling and communicating who you are – with and without cancer – in nonverbal ways.
She holds monthly classes that range from doodling your emotions to weaving as a meditation and working with art paper to create new art in the form of collages or cards.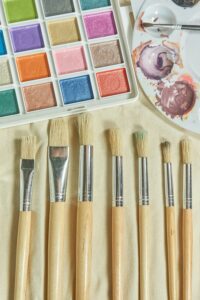 Some of the benefits from making art or engaging with art include:
Finding stress relief and relaxation

Developing a language for things that have no words

Expressing yourself – from joy to sorrow

Engaging your mind by learning a new skill

Creating a habit of doing something healthy for yourself on a regular basis

Releasing negative thoughts and feelings
No experience with art or drawing is needed for any of her classes.
ONLINE classes require pre-registration (usually 1 week in advance) to ensure we have time to get you the art supplies. Look for our Art for Self-Care classes on our Calendar page.
Connect with Nancy directly from her Facebook page.
Art Therapy with Lacey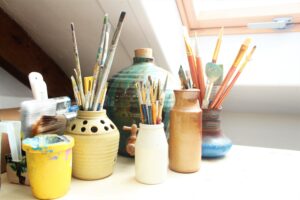 Join Lacey in a variety of therapeutic art classes with each class focusing on a different topic, enabling us to tap into our own inner artist. 
A guided imagery experience will start this process to help patients discover their own inner resources and connect to what artistic expression they would like to create.
~ ~ ~ ~
Art Therapist Lacey Morris has completed her master's in counseling psychology with an emphasis in expressive arts from JFK University, a program that incorporates the arts and holistic approach to psychology. She is registered through IEATA as a Board-Certified Expressive Arts Therapist. Lacey has a deep passion to help women struggling and in recovery with cancer. It started over fifteen years ago when her own Mother was battling cancer. Though she passed away, she learned that she could provide needed support for people in struggle. This experience led her to working by the bedside with cancer patients, offering art therapy at UCSF hospital where she supported individuals in expressing their pain and struggles with cancer through art expression.
She also had the wonderful opportunity to offer music by the bedside and facilitate cancer support groups at Cedars Sinai Hospital in Los Angeles, Bay Area Cancer Connections, and Cancer Care Point in the San Francisco Bay Area.
Lacey's passion for movement, music, and art is uplifting and contagious. She offers a non-judgmental space for others to tap into their own inner artist so they can have the tools to navigate darker and scarier times and find the light at the end of the tunnel.
Expressive Writing Group: Write for Your Life!
Whatever your skill or comfort level, everyone has the capacity to write creatively and joyfully. Increased comfort with writing in any form of self-expression has been demonstrated to facilitate healing.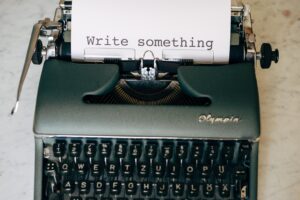 In this Expressive Writing Group there will be no need for writing skills, no evaluation, no criticism. During most sessions, group members will participate in free-thinking writing exercises to simply write however their creative mind engages them, upon being given a writing prompt, and then encouraged to share – or not – as they wish. Other sessions will include short writing exercises, meditation, games, and fun.
The act of writing will serve as an empowering form of self-expression and the opportunity to share proves to be a catalyst for peer bonding and personal healing.
This group is available to anyone who has had a cancer diagnosis, regardless of when or what type, as well as caregivers.
Our group will meet bi-monthly, except for the months of July and December.
Look for our Expressive Writing Group classes on our Calendar page.
~ ~ ~ ~ ~
"Participating in the writing group was superb. Our facilitator led a diverse group of non-writers into creative writing and [fostered] soulful connections with class members."
"Since attending this group, I've brought writing back into my self-care routine. Thank you for providing the thought-provoking prompts and a safe space to connect as we faced that early [COVID-19] quarantine period!"
Vision Envision: New Year, New You
As we start off a new year, why not transform your new year's resolutions into a visionary collage to motivate you to achieve your goals?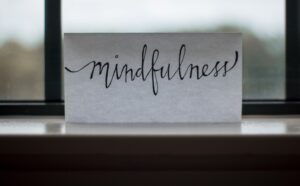 We will begin with relaxation and visualization to encourage your imagination, then create a vision board based on your mental pictures.
A vision board, a collage of words and pictures that represents your goals and dreams, is a powerful tool to help you activate the creative powers of your subconscious mind. By adding a visualization practice to your daily routine, you will naturally become more motivated to reach your goals. Alternatively, if you prefer, you can decorate and create a vision box which could be used to hold keepsakes or mementos.
We will chit chat and get to know each other online while working on our collages, empowering each other to achieve.
Supplies needed:
Poster board or paper (probably at least 11″x14″) or cardboard box (shoebox or photo box could be a good size), glue, scissors.
Collect:
Magazine pictures, printed internet graphics/photos, personal photographs, favorite quotes, or anything else that represents your values, hopes, and desires and will remind you to stay true to your authentic self and keep striving to create the life you envision.