Walkathon Fundraiser: 30 Miles in 30 Days
Dust off your walking shoes for our Annual Walkathon Fundraiser: 30 Miles in 30 Days!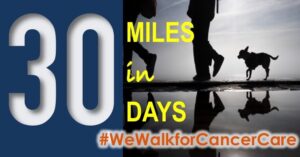 Join Lorien Neargarder, our Mind-Body Director and walk 1 mile (or more) a day, every day during the month to raise funds for Complementary Cancer Care.  For even more fun, ask some friends to sponsor your walk for a $1 per mile.
Walking 1 mile a day for a whole month builds a healthy habit for YOU and when you donate $30 ($1 per mile) to Complementary Cancer Care, you help to provide free services for people facing cancer.  Folks process their cancer experience in a variety of ways, so our organization offers a variety of tools:
✨ Social Support
✨ Mind-Body Classes
✨ Creative Expression Classes
✨ Wig Boutique
Need support and encouragement? Join our Facebook Group – We Walk for Cancer Care to connect with our other walkers!