Challenge Activities
Throughout the year, we hold a variety of fun activities that's good for you as well as others!  Watch our newsletter to learn about new challenges and get the details here.
WRITE YOUR CANCER STORY – ESSAY CONTEST
June 2021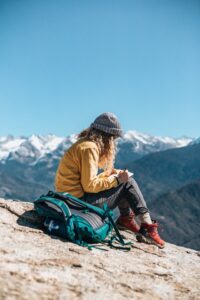 Deadline to Submit: June 1, 2021 – top essays will be published on our website in the month of June.
Submit one original, not previously published, 1,000 word or less essay inspired by your personal experience with cancer. Essays may be written from the point of view of the patient or caregiver. Finalists will be announced in June and published on our website where the community will be invited to vote. Finalists will be invited to read their essay at a reception to celebrate cancer survivors and published in Brevard County's local newspaper, Hometown News.
Download Essay Contest Flyer
Anyone who submits an essay will receive a free e-book of "Cycle of Lives" by David Richman, chronicling 15 remarkable stories of inspiring cancer survivors,  www.david-richman.com/product/cycle-of-lives.
During the months of May and June, for anyone who orders his book using code "CCC100" on his website, 100% of the net profit will be donated to Complementary Cancer Care.
Submit Your Cancer Story entries via email with your name, age, address, and phone number to:
info@compcancercare.org
All of the submitted essays from our brave cancer survivor writers are now published on our website for the month of June and the top 3 finalists are listed where the community is invited to vote.  Click HERE to view.
Thank You to Our Sponsors!
30 Miles in 30 Days with $30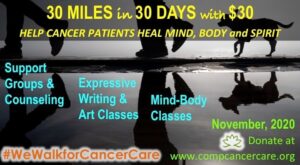 November 2020
30 miles in 30 days in November helped us reach our fundraising goal. Walk 1 mile a day and ask 30 friends to sponsor you with $30… that's it! Every step is good for your health as well as provides services for others dealing with cancer.
Thank you to all who participated in WeWalkforCancerCare!
Fall Challenge 2020
50 Ways in 56 Days to Improve Body, Mind & Spirit!
Congratulations to Mary Parker, our winner of the Fall Challenge, who will receive a FREE massage from CMT Muhammad Haqq! Mary attended classes every week and participated in the other activities on the bingo card on a regular basis which put her name in the jar multiple times. Congratulations to Mary and to all of our participants who found new ways to improve body, mind, and spirit!