5K Race & Fitness Training for Cancer Survivors
Here's an upcoming opportunity in Orlando of free fitness training along with a volunteer sherpa to run or walk alongside a cancer survivor to complete a 5K run/walk.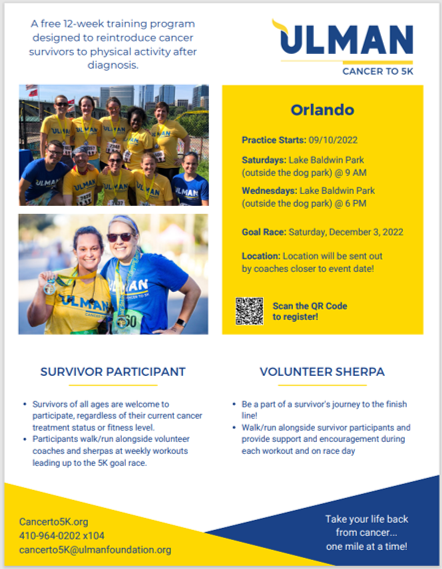 The Ulman Foundation will provide free training to volunteer sherpas and cancer survivors of any age in Baldwin Park two days a week starting September 10th. The Ulman Foundation is focused on young adults who are affected by cancer, and they are hosting their first event here in Orlando Florida Saturday December 3rd. To have this race event, they need a minimum of 8 survivors to participate and are open to all age groups affected by this dis-ease.
To join, please contact:
Cancerto5K.org
410-964-0202 x104
[email protected]
Click on the image to open and share the flyer.